Workshops in KI-Kötő – An Ideal Retreat
If you are a leader looking for a place where you can bring your team together for an inspiring and intensive workshop, ki-kötő with its creative ambience is just the right place.
But ki-kötő is also a retreat for creative workshops that focus on new ideas, recharging and relaxation.
From September to the end of May, we usually have free dates on weekdays.
What Can You Look Forward to in ki-kötő?
Conference tables inside and outside for up to 10 people each
Fully equipped kitchen
Cosy living room with fireplace
Wi-fi with up to 2,000 Mb/s in all rooms and on the entire grounds
Creative corners inside and outside
Workshop breaks in the large garden
Lounge sofa in the old horse stable for up to 12 people
Hayloft for secluded working
Kicker table and table tennis for active workshop breaks
Two monitors and TV plasma screen with USB and HDMI connections
Delivery facilities for breakfast and dinner
We can accommodate up to 9 people in double rooms. For larger groups or for single room requests, flats can be added in the immediate vicinity.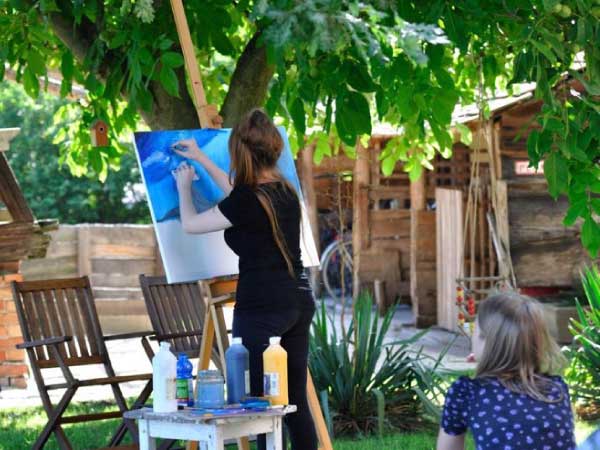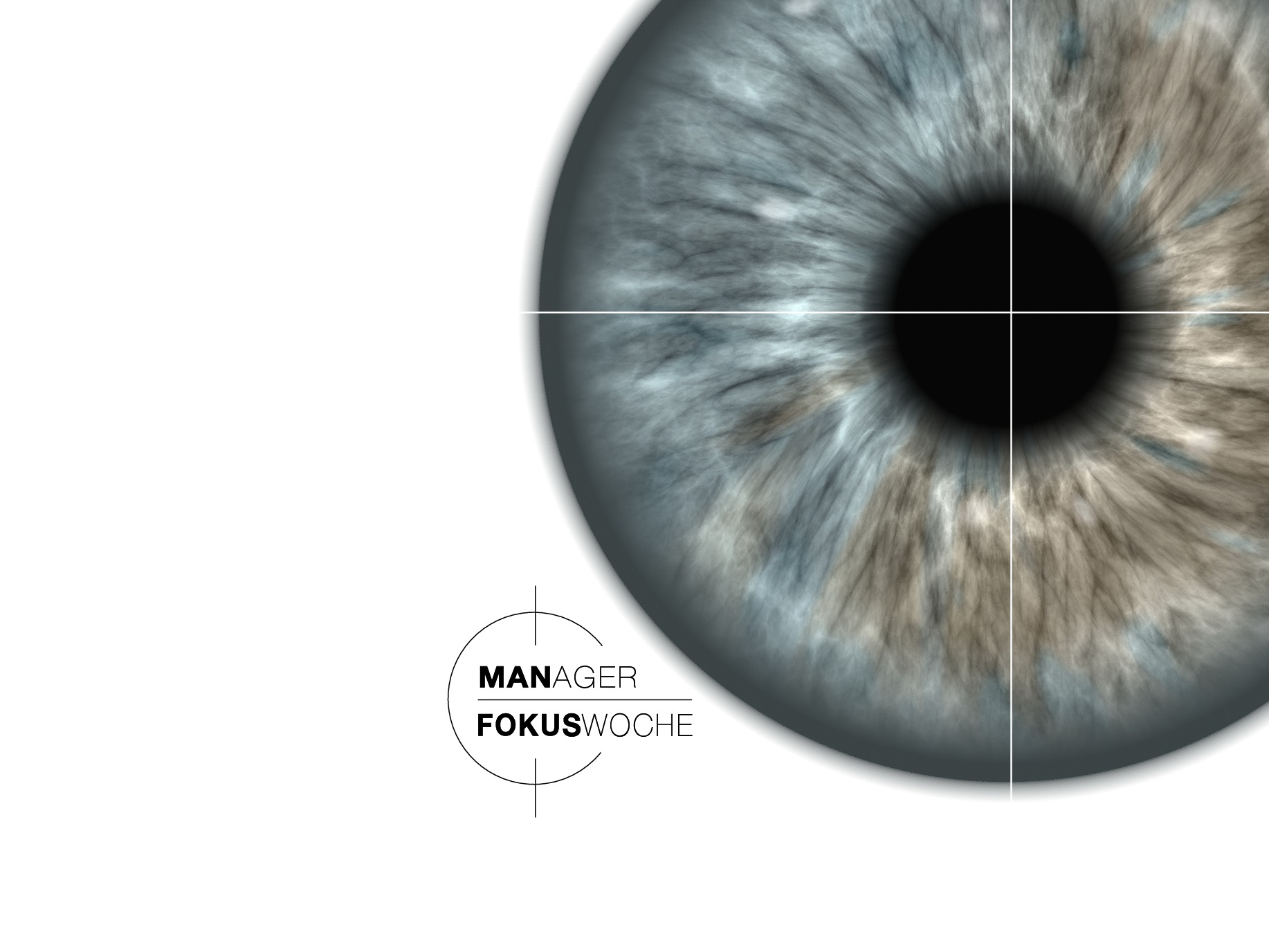 Focus Week
German-language based individual coaching offer for managers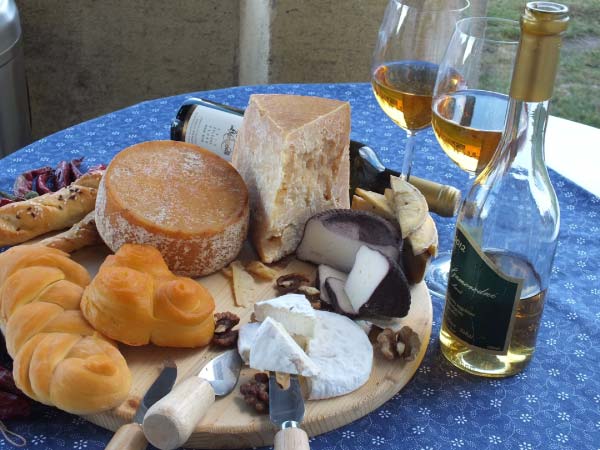 Slow Food From the Cheese Factory
In our fast-paced times, it is good to slow down and experience how long some processes take. What could be more suitable than making SlowFood yourself? And to experience that everything has its time. Cheese needs time to mature. Only then does it taste delicious. Book a workshop at the Poroszló Cheese Factory and enjoy making your own cheese with your favourite flavours.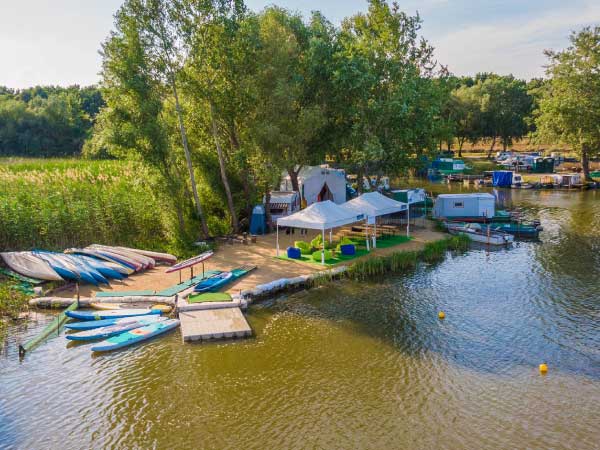 SUP Base, Group Excursions
Have you ever stood on a SUP – a stand up paddle board? Whether your answer is "Yes!" or "No!", then the Poroszló SUP base is the place for you and your team. Here you will learn how to get on the board, stay there and navigate with the paddle – a piece of cake! Once you get going, the ride on the water of the tisza-tó becomes a wonderful experience.
Visit the SUP base at the Poroszló Marina. There you will meet professional and very friendly SUP instructors. Boards and life jackets are available in all sizes and shapes. Experience the silence of Lake Tisza – on a SUP or with a SUP beer in your hand on its shore.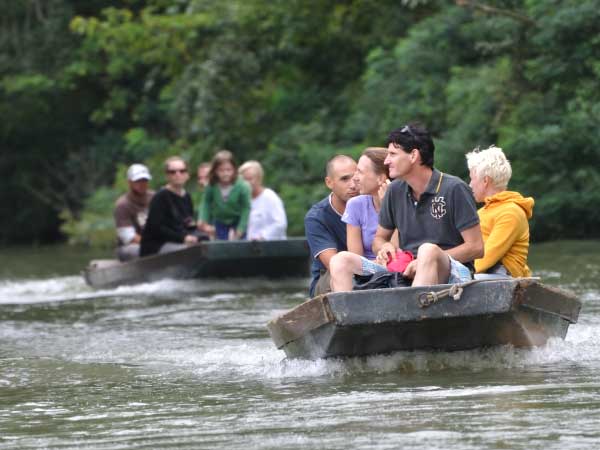 Boat Tour With Captain
Lake Tisza is part of the Hortobagy UNESCO World Natural Heritage Site. All is still right with the world here! Above all, the lake offers peace and relaxation in nature. The lake and river are connected by numerous waterways and can be explored by motor boats, kayaks and canoes. There are many islands and undisturbed wildlife on 127 square kilometres of water. Many protected bird species such as herons and cormorants nest here; even beavers can be seen. Boats can be hired at the Poroszló marina. If you and your team would like to take a guided tour of the lake to its farthest corners, we will be happy to make an appointment for you with our favourite skipper.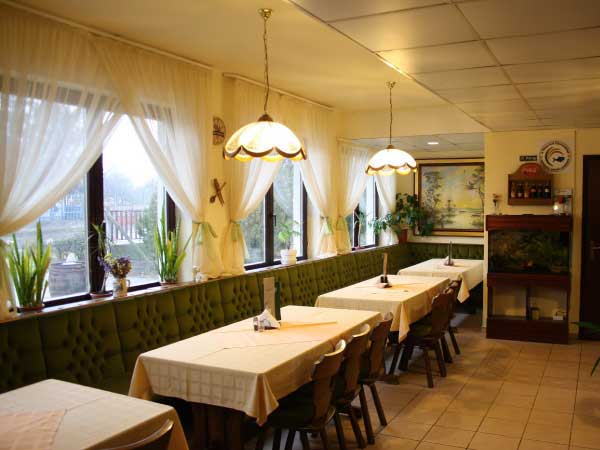 Just a Few Steps to the Kormorán Csárda
This was the first csárda we tried in Poroszló. The typical Hungarian garden restaurant has a beautiful covered terrace that seats the whole team at large tables. The csárda atmosphere is also reflected in the size of the portions! You won't come out of here hungry.
Here you'll find the Hungarian national dishes, but also schnitzel with chips.
We recommend this restaurant especially when the weather is nice and before dark.
It is a place where children and dogs are welcome.
It is very accessible for people with disabilities.
If you spend a whole week in Poroszló, you should visit this csárda on a weekday. At weekends you sometimes have to wait longer for a free table. Reservations are not possible.
There is a large car park, but it's not really worth driving there. It only takes seven minutes on foot, and it's even quicker by bike. And exercise is good for a full belly.
There are menus in English.
The wait staff is very nice. We like the fact that the waiters here don't change from year to year, but that there is a professional regular staff.
You can also order the dishes on the menu by phone and pick them up there later – not only in high season.
We especially recommend the red wine beef stew with feta cheese and grapefruit.
This csárda is open all year round. On the occasion of holidays you can order a very tasty buffet.
The prices are reasonable and there has never been an extra request that we have not had fulfilled.
All means of payment are accepted: cash, credit card, EC card.
We can recommend this Csárda!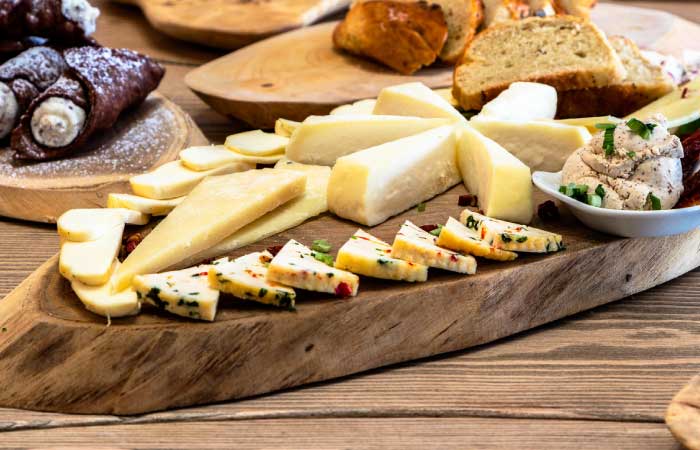 Heavenly Breakfast and Brunch in the Füzes Cheese Factory
We are so taken with this small cheese factory that whenever we are in Poroszló, we stop by Ilidi and Peter's to taste their latest variations.
When you are greeted with a smile here, all stress immediately falls away. We don't know how they do it exactly, but these hosts exude a special calm and friendliness. They live slow food!
Besides our sweet favourites like pancakes or buttered noodles with vanilla cream cheese curd, served warm, you'll also find savoury cheese variations on the menu, award-winning varieties, smoked, hard or young. The choice is quite difficult.
For breakfast, bread and rolls are home-baked, fresh and served warm.
The cheese factory is right next to the market square. 
Of course, you can also buy cheese there. Choose from the display case, take it home and enjoy every bite – flavoured with fresh herbs, free of additives and preservatives.
You can also order a whole breakfast package to take home, not only in high season.
There is a lovely seating area in the garden; but something very special are the lovingly designed café rooms inside the cheese manufactory.
The cheese factory is open all year round, but not all day in the low season. You can find out about the opening hours on their Facebook page.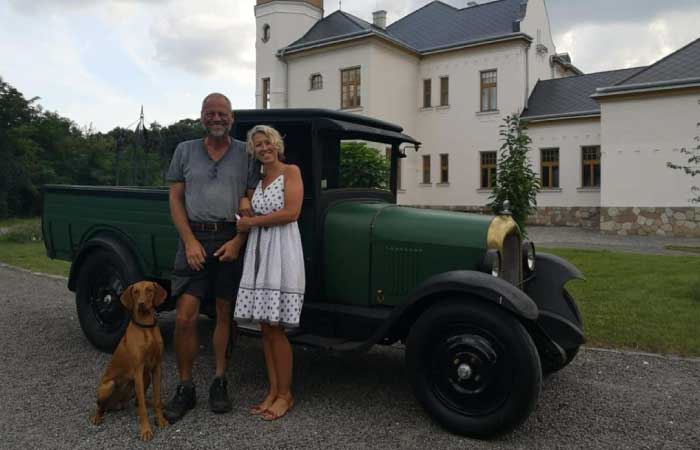 Insider Tip! GRAEFL MAJOR Kétútköz
When we first came to this country estate, we couldn't believe our eyes. We didn't expect to find such a paradise in the middle of nowhere in the Puszta. Here, the slow food atmosphere is palpable. Vegetables, fruit and meat come from their own organic farm.
This is by no means a restaurant for all days, but all the more so for those when there is something to celebrate.
Slow food is when time stands still, when you are surrounded by complete tranquillity and can enjoy the very best flavours.
We ate and talked there for almost three hours last time, tasting all sorts of things and exploring interesting and very tasty variations. For me, the cold leek and cucumber soup was an absolute highlight.
The table decoration matches the stately ambience of the estate. Every detail, no matter how small, has been carefully chosen.
There are also stylish accommodations here, which are very sophisticatedly furnished.
We met Györgyi, our extremely friendly hostess. She took a lot of time to welcome us and show us around. Maybe she will give you a tour of her property too?
There are special offers for every season, whether Christmas jelly, bejgli or a summer magic dessert.
The small chapel on the estate is a masterpiece of restoration.
You can book in advance for lunch or dinner from Thursday to Sunday.
New and Fantastic Place – SULYOM Landscape Restaurant Sarud
Everyone who knows a little about tisza-tó had already heard that a modern, high-quality restaurant had opened in Sarud. The clever online marketing had also aroused our curiosity, so we went to find out whether the new kitchen would deliver what it promises its guests. We were not disappointed!
It is an elegant restaurant with spacious indoor and outdoor areas.
A quick glance at the menu is enough to discover the AndersARTigkeit in a traditional guise here, too: Wonderful flavour combinations! I was particularly taken with the rosé duck breast – definitely try it!
The drinks menu is also worth a look. You'll love what you discover there. And if the whole family decides that no one should miss the good wines of Eger, the restaurant offers a shuttle service back to Poroszló.
Mothers, listen carefully! You won't believe it: there is a mother-baby room with a quiet breastfeeding corner. And a playroom for the little ones. I don't know of a better baby- and child-friendly restaurant in the area.
We also met Gyulá, our host. He promised us that an English menu would be waiting for us soon.
From Poroszló it is very nice to cycle over the lake dam to Sarud – or to get there by car in about ten minutes.
You can book online and even choose your seat.
The restaurant is barrier-free accessible for prams and people with disabilities.
Dogs are welcome.
What we stand for in ki-köt

ő

– combining art and eco – is also reflected in Sulyom. There is an exhibition of local artists and – still rare in this area – two charging stations for e-cars.
Open from Wednesday to Sunday.