How Is the Main House Equipped?
The large kulak house – our main building – is structurally divided into two parts. Separated from the quiet retreat with three bedrooms is the communal living and dining area.
The main building offers family members of several generations or even two families more than 130 square metres of space for spending time together, but also offers those seeking peace and quiet the opportunity to retreat in three bedrooms. On our covered veranda with comfortable seating and a large family table you will find airy shady spots and a beautiful view of the ree-roofed barn, the pool and our large garden.
Find Out More About Our Apartment
The ki-kötő apartment is located separately from the main house in the thatched former stable. It has a living space of approx. 35 sqm and its own entrance. It is accessible without steps and ideal for 2 adults with a small child (double bed + extra bed/baby cot) or a dog. We recommend it especially to couples who want to make a weekend trip to Lake Tisza in the low season.
In our flat you'll find a breakfast bar with bar stools and a bold lighting, a coffee corner overlooking the pool and the large garden, a bathroom with toilet, sink and spacious shower, a fully equipped kitchen with two induction hobs, coffee maker, fridge and kettle, a comfortable double bed with extra soft blankets, two walk-in wardrobes and a private covered terrace with garden furniture away from the pool hustle and bustle. The flat is equipped with modern heating and can be booked all year round.
Our WLAN is particularly fast thanks to fibre optic cable. The TV shows 50 (mostly Hungarian) channels. Would you like to listen to music? Then a portable Bluetooth box is waiting for you there.
The flat can be rented independently from the main house from October to May. In the off-season, you are welcome to come and cycle, hike, bird-watch or just hide out and recharge your batteries!
In the Hungarian summer heat, our 24/7 pool is the luxury our guests deserve. It measures 10 x 5 metres and is easily accessible via stairs. Because it is 1.50 metres deep, you can start every holiday day with a dive into the cool water.
Our pool is not artificially heated for ecological reasons. It is available to our guests from 1st of May to 15th of September. Thanks to the continental climate, we have mostly nice and stable weather in spring, summer and autumn, so that the pool can reach a water temperature of up to 25 degrees Celsius already at the beginning of June.
Next to the barn there is a pool shower with warm water where you can also change clothes.
Our thatched pool lounge is something very special at any time of year. With its cosy seating area and cocktail bar, it provides the rustic backdrop for many nice conversations. This common room for 10-15 people is located directly by the pool. While it also serves as a summer kitchen during the hot days, it offers protection from wind and weather during the cooler months – always very close to nature.
Only accessible via a steep ladder, a play and sleeping place awaits you at the top under the thatched roof of the old barn – protected but still in the fresh air. A pulley pulls everything up that you can't carry in your hand while climbing.
Our Loft is the place for all the young at heart and those who sometimes need to hide. Here you can spend the nights from spring to autumn on our mattress camp. There are six sleeping spaces for this – with mosquito nets to keep the cheeky nocturnal pests away.
But this is also an atmospheric place to reflect, meditate and talk to each other. That's what the beanbags are for.
And there's Wi-Fi up here, as well as a professional kicker table.
Points of Interest on the Property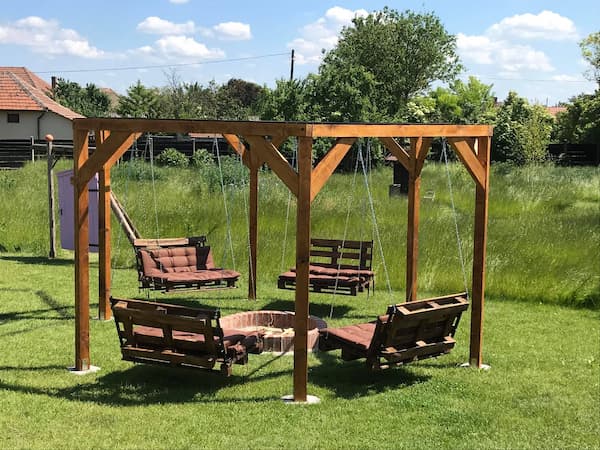 Swing At the Fire Place
Whether it's a kettle goulash or a barbecue: here, all family members can swing at the same time! Or when friends sit together in the evening by the open fire with a good glass of wine.
This is our favourite place to look at the starry sky at night. It is quite amazing how many stars can be seen over the puszta and how clearly you can see the Milky Way. If you come in August, you will see more shooting stars than ever before in your life. Then think of what you longingly wish for – and it will come true!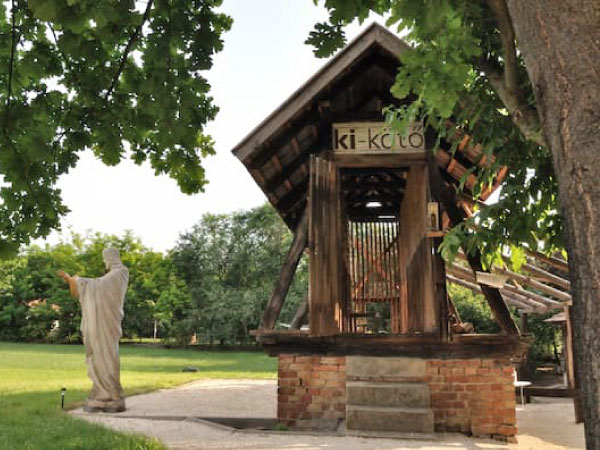 Corn dryer
When we first came to our present property, we immediately fell in love with this really mighty goré – an old corn dryer. A few days after we bought the property, a large part of the wooden structure was destroyed by fire. Since its reconstruction, it is now a playhouse for the kids – but equally a perfect, airy and shady place for fathers and mothers to take a siesta in a deck chair after lunch. At the back, a sandbox awaits our very young guests.
Fairytale forest
Our little fairytale forest is a fabulous place for all those who love peace and quiet. There is only one attraction: birdsong in the shade. Go there – with a book in your hand or just to switch off and find yourself. 
If you like it, our fairytale forest is also a wonderful place to camp.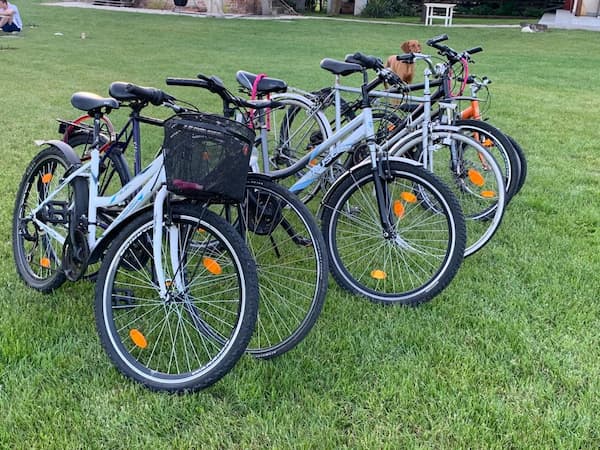 Bicycles
Feel free to use them! In Poroszló you can cycle everywhere and you get around faster than by car. Cycling to the bakery early in the morning to get bread is a pleasure!
Our bicycles are not particularly high quality, but they are tried and tested village wire donkeys. We have a total of seven of them – for men, women and also a small one for children between six and ten years.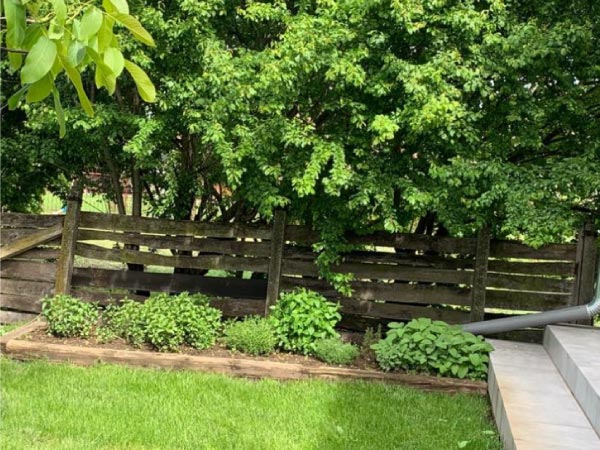 Herb bed
Just take what you like and enjoy our fresh herbs! Whether you want to make mint sorbet or oregano sushi, you'll find everything you need here.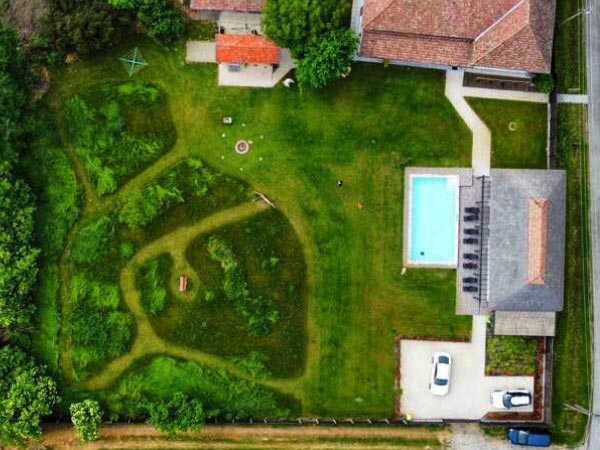 Walkway
The best thoughts come to us when we are in motion. Take a leisurely stroll on the grassy paths of our garden – barefoot if you like. Then the good thoughts just come all by themselves. Try it out!
Invite your children to put their mobile phones aside for a while and come along for a trusting conversation – or a friend and ask him the question of the day.
Veranda and Terrace
Whether it's hot or windy, you can always find a sheltered spot at ki-kötő. On our veranda by the main building you can hold a big feast for ten to twelve people. There is also a comfortable garden sofa from which you can look out over every corner of the garden. Even when it rains, you can enjoy the outdoors, because the large roof protects you from the wet from above.
On the covered terrace in front of the flat, you can enjoy the morning sun while having breakfast.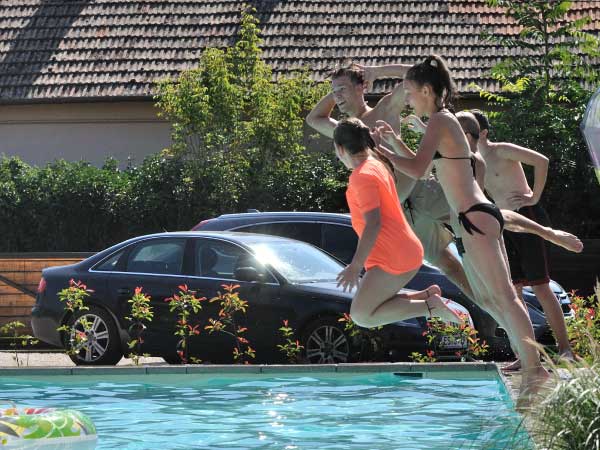 Parking lot
Three to four cars can be parked in our parking lot within the fenced property. Soon we will also offer a facility for charging electric vehicles.