On behalf of the entire ki-kötő team, we promise to do everything we can to ensure that your stay with us is relaxed and smooth. As our guests, you can also contribute to this by observing our house rules.
Who is ki-kötő best suited for? What can families with small children expect with us? What are the booking rules? What is in the breakfast basket? Where can you swim with dogs? Which restaurants are recommended? We answer these and other frequently asked questions here.
According to the applicable local laws, all guests using accommodation services in Hungary are legally obliged to provide the accommodation provider with their personal data…
A few years ago, we dreamed of having a place in my home country where our Hungarian roots could find a firm footing. A place where we meet and where we strengthen our family ties. Today, ki-kötő is that place for us.
In 2017, we took a first courageous step and acquired the beautifully enchanted agricultural estate in Poroszlo. At that time, it had already been empty for more than ten years. Then the renovation work on the more than 100-year-old kulak house began: the floor plan was changed, the roof was re-roofed, and the heating, water supply and electrics were renewed. It took just under a year to restore and furnish the house to its current state. The construction work was carried out under the planning and construction management of the architect Evert Brons. We accompanied this process in close consultation from Germany. In June 2018, the first construction phase was completed and the house was handed over to us. In 2019, the salvage of the horse stable and the construction of the pool followed in a second construction phase. The preliminary conclusion of the work was finally the design of the outdoor facilities and the large garden.
This is how we brought the house and property to new life. But not just to use it for ourselves alone. From the very beginning, we wanted this refuge to be available to others as well. That's why we share it with those who are also looking for peace, relaxation and nature. Since spring 2020, we have been welcoming our guests to ki-kötő.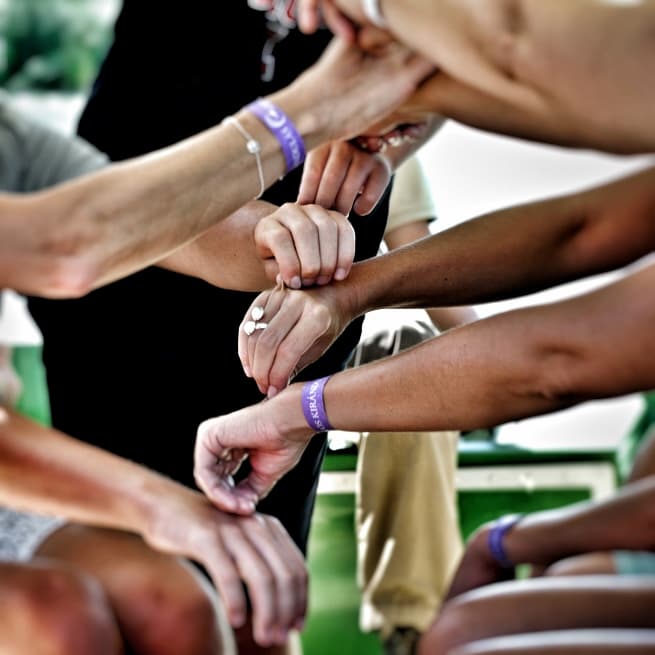 For us, ki-kötő is both a symbol and a place for family cohesion. Since our family members live far away from each other, we have created a meeting place where we can all come together from time to time to nurture and maintain our relationships with each other. Here we lie "in calm waters", safe and secure, far away from the storm of everyday life. This is also expressed in the play on words "ki-kötő". Kikötö – without the hyphen – simply means "harbour" in Hungarian.
The name "FamilyRetreat" refers both to us as a family and to our target group. They should all be able to retreat to this family-, child- and dog-friendly place to find rest and relaxation in a creative and inspiring environment.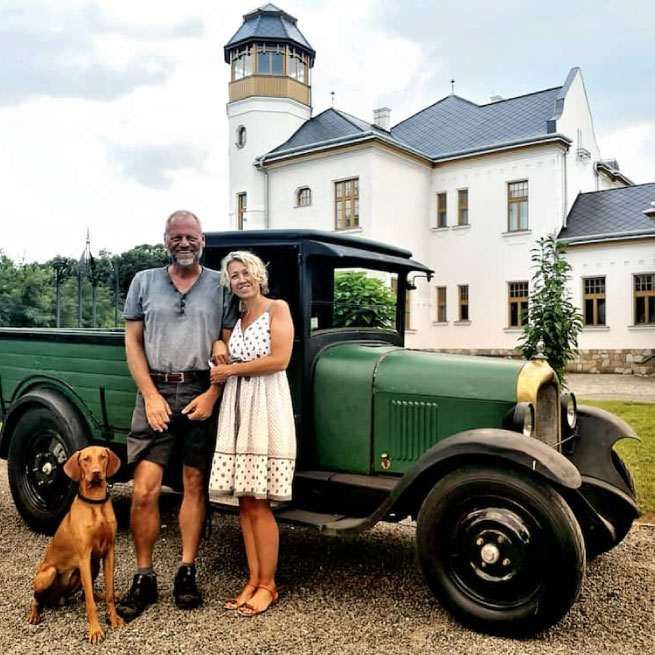 What Is the Ki-Kötő Art Style?
From the very beginning, we were keen to bring the entire property up to a modern, comfortable standard, while at the same time preserving – wherever possible – the patina of this venerable farm.
Therefore, we reused many materials and objects: For example, our dining table was made from the acacia wood of the old pigsty. We collected the roof tiles of the Kulak house from demolished buildings all over Hungary. And we were also guided by the idea of sustainability when furnishing the rooms. Over many months, we collected used furniture and furnishings in Germany and Hungary, restored them and finally put them together in ki-kötő like in a puzzle: An old ammunition crate serves as a media cabinet, antique railway lamps provide cosy light in the living room, a discarded Porsche seat is used as a rocking chair.
In everything we have striven for originality and creativity, taking our cue from the models of art. The fireplace, for example, is inspired by the architecture of Antoni Gaudi and at the same time builds a bridge to traditional Hungarian stove construction.
You will discover many surprising things in ki-kötő: trumpets and trombones playing light – an unexpected giraffe – industrial lights from a Polish factory – snowboards in the puszta…
We are happy about every guest who appreciates this otherness and are completely okay with them taking our furnishing ideas home with them.